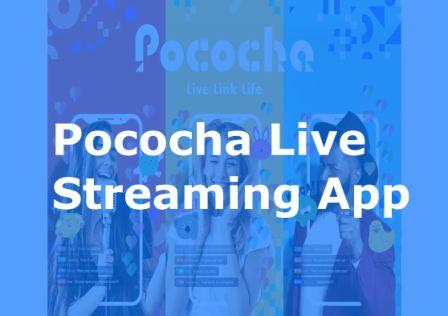 This is a great opportunity for easy free money. Pococha Live is offering to pay you a good sum just for registering and logging into their app for 8 days straight.
Pococha Live is a live streaming app for entertainment by musicians, comedians, and many other talented artists.
Reviews & Ratings
This app is already downloaded by 5 million+ users and has a 4.3 star rating from more than 32,000 reviews. Not bad.
How To Download The Pococha Live App
Well, the app is readily available on Google Play Store for download, but in order to earn $6.8 by logging into the app for 8 days straight, read on below to see how to download the app.
What's The Catch? Do I Have To Pay Any Fee?
No, You don't have to pay any fee to complete this task and earn the rewards.
How To Earn Real Money With Pococha Live App.
Simply create an account on PaidPoints . Log into your account after verifying your email. Click on "Offers" as shown in the screenshot below.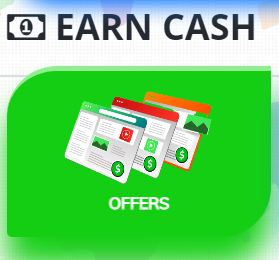 This should take you to the "offerwalls" section. Next, click on the "AdGateMedia" offerwall tab, and select the "Mobile Offers" section as shown in the screenshot below.

Next, scroll down and find the "Pococha Live" app and click on it as shown in the screenshots below.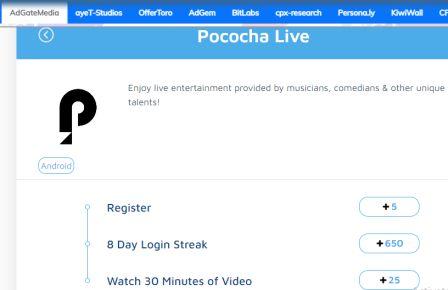 You simply need to click the "Earn +680" blue button to continue, if you are on mobile phone. However, if you are using PC, you should see a box a download link and a QR code.
You can either scan the QR code directly from your PC/Desktop with your mobile phone or, enter your email or phone number and send the link to your email or directly to your phone.
If you entered your email, check your email through your phone, and download the app from there. It should take you to Google Play Store to download and install the app.
Final Step.
Register on the app, and you will be credited with 5 points worth $0.05 on PaidPoints. After that, log in for 8 days straight, and you will be credited with 650 Points worth $6.50 on PaidPoints. Additionally, you can watch 30 minutes of video to earn 25 points making it a total of 680 points, worth $6.80 on PaidPoints.
Simply transfer your points to cash and withdraw your easy earnings.