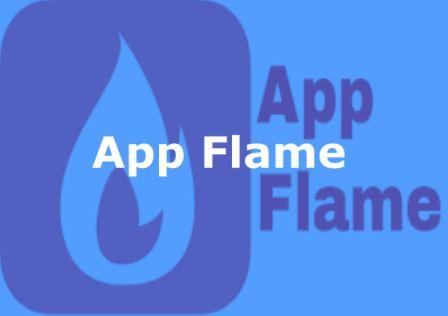 App flame will pay you to download their app, and play a game for just 30 minutes. You get paid in Paypal. They have many mobile games available to play.
Reviews & Ratings
This app has over 10 million downloads and installs with a 4.4 star rating from over 270,000 reviews.
Where To Download App Flame
You can download the app directly from Google Play Store, but in order to make the best use of the app, and earn money for just installing and using it, read on to find out how to download the app.
Do I Have To Pay To Use The App?
No, App Flame is totally free and easy to use. You simply download the app and start playing games to earn free money.
How To Earn Real Money For Downloading & Using App Flame
App Flame is offering to pay you some money to download and play a game for 30 minutes in the app through PaidPoints. You will earn 65 points worth $0.65 real money just for playing a game for 30 minutes with App Flame.

To get started, simply create an account on PaidPoints . Activate your account by clicking on the activation link that will be sent to your email. Then log in, and click on "Offers", under "Earn Cash".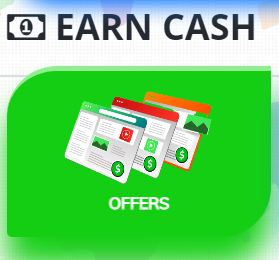 This will take you to the offerwalls section. Next, click on "OfferToro" tab. Scroll down to find the "App Flame" offer. See screenshot example below.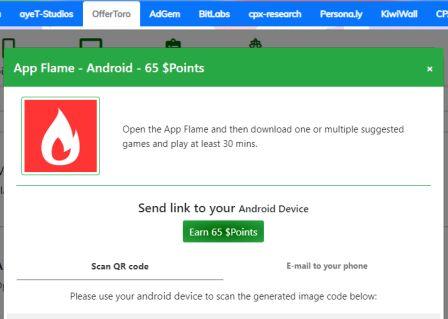 If you are on desktop/PC, simply scan the QR code with your mobile phone. Alternatively you can send the download link to your email. Open your email with your phone and download the app from there.
Open the app, choose a game to download. Play the downloaded game for at least 30 minutes, and you will be automatically credited with 65 Points in your PaidPoints account.
Log back into your account. You can try another app, and once your earnings is up to $1 (100 Points), simply transfer your points to cash in your main balance, and withdraw your earnings.